Virtual Child Safety Seat Check 
The Tribal Injury Prevention Resource Center (TIPRC) will be hosting a one-day virtual child safety seat check!
The event will occur on November 19th, 2020, from 9:00 AM – 3:00 PM (MST) via Zoom. You must contact TIPRC staff to schedule an appointment.
For more information, see the virtual event flyer.
Re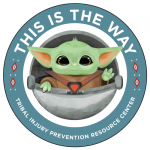 visión de asientos de seguridad para niños 
¡El Centro de Recursos para la Prevención de Lesiones Tribales (TIPRC) organizará una revisión virtual de asientos de seguridad para niños durante un día! 
El evento tendrá lugar el 19 de noviembre de 2020, de 9:00 a.m. a 3:00 p.m. (MST) a través de Zoom. Debe comunicarse con el personal de TIPRC para programar una cita. 
Para obtener más información, descargue el folleto del evento virtual.