Give a voice to the back seat:  Don't Smoke in Cars with Kids!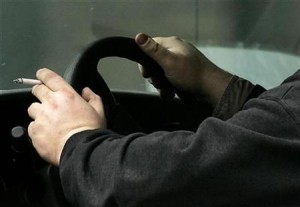 Research shows that when someone is smoking in a car, the air quality decreases substantially. Secondhand smoke levels in motor vehicles can be up to 27 times greater than in a smoker's home! Learn how bad smoking in a car really is…Click here.
Smoking is banned in all vehicles, moving or parked, when youth are present.
Smokers can be fined up to $100 for smoking in vehicles when a child under the age of 18 is present. Follow the law – don't smoke in cars with kids, cigarettes or e-cigarettes!
Children are especially susceptible to secondhand smoke.  Components of secondhand smoke can settle or be absorbed into carpets, walls, and furnishings, and can be re-emitted weeks or even months later.
Children who breathe secondhand smoke on a regular basis are at a higher risk for middle ear infections.
Exposure to secondhand smoke can cause asthma in children who have never previously shown any symptoms.
Babies and children younger than age 6 who are exposed to secondhand smoke regularly are more likely to get respiratory infections, such as pneumonia and bronchitis.
Susceptible populations, especially young children may absorb nicotine by inhalation, ingestion or skin contact.  [Cancer Epidemiology and Biomarkers Prevention December 2009]
Children exposed to secondhand smoke are more likely to become smokers themselves.
Pregnant?
If you smoke while pregnant, your baby smokes too – and the effects are harmful. Smoking robs your baby of oxygen. Poisons pass through the placenta.  Smoking, or being exposed to secondhand smoke, while pregnant can increase the chances of a miscarriage or having a baby with low birth-weight.
Ready to Quit?
Mono County Public Health Tobacco Education Program, 760-924-1830
Call 800-NO BUTTS for free counseling, visit their website, or download the app.
Tobacco Free California
Tobacco Free Kids
American Lung Association of California